Infra Gallant,
Layam road, Ernakulam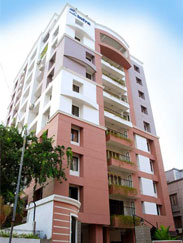 Overview
If location is everything - as they say in builders' parlance - Layam road is a rare combination of surprising contrasts. On the one hand, it rubs shoulders with the city's most prestigious landmarks - M.G. road, Jose junction, Lotus club, Rama Varma club, Maharaja's college ground, the district collector's and chief Justice's residence, to name just a few - and on the other, it is as private and reserved neighbourhood in its own insulated way. And this makes it the pick of residential properties in Kochi. Infra's premium class residential project 'Gallant' is a magnificent addition to this environment.Elegantly designed, unabashedly luxurious, yet thoroughly pragmatic, Infra 'Gallant' expresses nothing less than the heart and soul of gracious living. Infra Gallant's well-integrated design puts it in command of things that matter most: aesthetics, comfort, and exclusivity. With just two apartments on a floor, this immediately translates into more spacious rooms and more privacy
Copyright © 2022 infrahousing.com. All rights reserved.